Rapid Prototyping of Cables for an Unmanned Ground Vehicle
---
---
Pedigree, engineering experience and lean manufacturing enabled Rockford to deliver unmanned ground vehicle electrical cables, delivered in just six weeks.
Why They Chose Rockford
Rockford has over 40 years' experience and pedigree working in defence and industrial markets, designing and manufacturing ruggedised enclosed cables for both traditional and hybrid vehicles. Rockford was asked to work in partnership with a company developing a hybrid UGV (Unmanned Ground Vehicle) to support the development of ruggedised electrical cables.
The Challenge
The scope of work was to develop an approach to cabling that offers the customer defence performance which will meet their specific vehicle performance requirements but at an automotive cost base. The Rockford applications engineering team visited the customer to discuss the environmental, electrical and mechanical performance, and also their commercial constraints. Our discussion covered areas such as CANBUS, connector preferences, design standards, GVA (Generic Vehicle Architecture), etc. The Rockford team reviewed customer drawings, BOMs and also the top-level topology to ensure we had a clear understanding of the project and all requirements were captured and agreed upon.
The next stage was to review all of their drawings, agree on a build approach for the cabling, as cabling can be open to interpretation unless you agree on build methodology, such as splices, braid terminations, etc. Once the build methodology was agreed upon, the next step was to agree on a cost-effective approach to materials.
The Solution
The Rockford approach:
Open-source all drawings – Ensure that all components are referenced by an appropriate standard, and wherever possible not to use single-source part numbers
Review each sub-level part against required performance – wiring, braid, heat-shrink, conduit, cable ties, connectors, backshells, moulded parts, and ensure that as a system they will meet the required performance but still achieve their cost target (reduction of approx. 20%)
Ensure that the materials specified will support the rapid installation of cables into the vehicle.
Rockford worked transparently and open-book with the customer on labour, material cost and profit, this allowed the customer to easily place a production order with Rockford to source all the required material, so when the customer had finalised their drawing pack we could start manufacturing immediately. Rockford can offer a full drawing service, but on this occasion the customer developed the drawing in-house and Rockford supported their engineering team to develop a solution which was "right-first-time" while also meeting the specification and their cost target.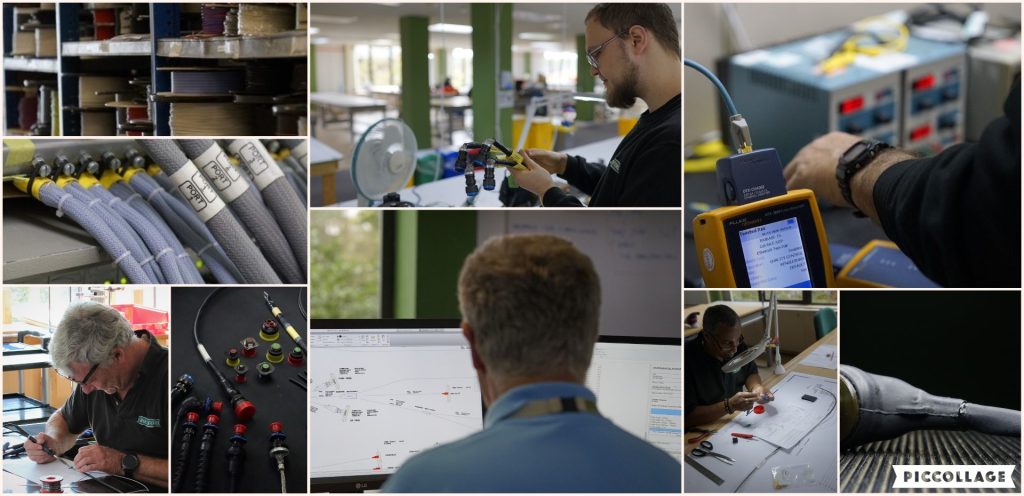 Rockford sourced all the materials and set up a lean manufacturing cell for 20 different cable variants and we produced 3-4 pcs of each variant. The cables were categorised into simple end-to-end, medium and complex cables and allocated a lead cable technician who recommended an appropriate lean manufacturing sequence by manufacturing stage e.g. kitting, wire lay, 1st end, 2nd end, final finishing, inspection and test, packing and dispatch.
Medium cables had more stages due to the increased number of ends and complex cables were manufactured on loom foils (visual build aids) due to the complexity of the cables.
The customer was given a project team at Rockford. The project team met with the customer several times to review the specification, cable products and vehicle/installation. Reporting template/frequency was agreed in advance and Rockford reported over the six weeks.
The Result
Rockford manufactured 20 different cables for 3-4 vehicle sets in six weeks, which included sourcing the materials. We provided the customer with a snag sheet for any cables which deviated from the drawing/BOM on the 1st-off build and this allowed the customer to update their drawing pack, which offers them maturity and security for their volume production build.
In summary, Rockford is a high-performance supplier of wiring, cables and harnesses for various vehicle markets and types, and will work with customers to design and specify cabling products that not only will meet their required performance but to also reduce hardware acquisition costs and installation costs. We use a lean manufacturing cellular approach to ensure rapid product development, right first time every time, and offer clear and precise communications to customers.