A Knowledgeable Cable Assembly & Electrical Systems Partner
Rockford's unique engineering-driven approach to cable assembly and wiring harness design and manufacturing delivers a cost-effective, high-quality solution to your cable assembly needs. Rockford is the UK's largest independent provider of wiring, interconnect & system solutions for the aerospace, defence and industrial markets.
We offer a simplified, competitive and reactive supply chain with excellence, meeting your offset requirements and mitigating your risk: Designing high-performance, environmentally sealed, next-generation, high-speed, flexible cabling and system-level electrical equipment with engineering and production capacity for rapid prototypes and low to medium volume orders, delivered with on-site global engineering support.
Since 1978, we have successfully addressed the high-reliability requirements of the major Original Equipment Manufacturers (OEMs) in the defence and aerospace sectors. Our broad cable assembly capability and competitiveness, combined with a reactive attitude to service means Rockford has become a major part of many important supply chains. We are a specialist manufacturer and distributor of cable assemblies, harnesses, looms, box builds, control panels and sub-assemblies.
"We have grown from being a small family firm in 1978 to become the UK's largest independent provider of wiring, interconnect and system solutions for the aerospace, defence and industrial markets." — Peter Lion, Managing Director
We have the capabilities, technologies, products, and knowledge to design, manufacture, test, and deliver system-level electrical equipment that ranges from simple wiring harnesses and electro-mechanical sub-assemblies, and on to complete systems.
Beginning as a business that was primarily a cable assembly and wiring harness manufacturer, Rockford has evolved to offer a broad spectrum of products, including wiring looms, interconnect components distribution, kitting services, system-level electricals, electro-mechanical systems and other bespoke complex electrical projects. Our electrical cable assemblies can include hermetically sealed wire harness design (waterproof connectors to ip68), over-braided harnesses, over-moulded connectors, and high-speed USB/ethernet.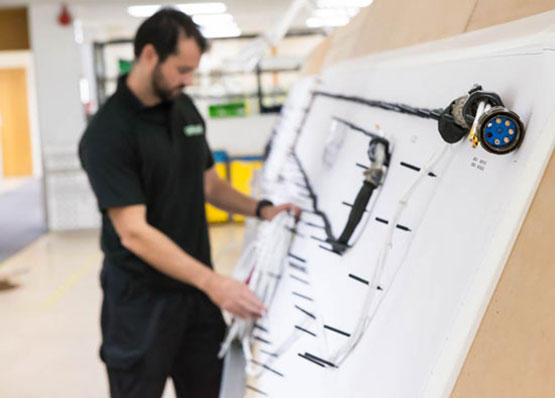 Cable Assembly Experience & Quality
Rockford has over 40 years of experience in cable assemblies & wiring harnesses in the UK, and operates from three sites in Rendlesham, Worksop, and Salisbury.
Rockford can deliver globally competitive electrical system solutions through design excellence, ensuring all of your requirements are captured and met. Our lifecycle management offers design, fast prototyping, on-site-installation, production, logistics, spares and obsolescence management.