System Solutions
From electro-mechanical sub-assemblies to complete systems
Rockford designs, develops and manufactures system solutions for industrial, commercial and military applications. Rockford is able to build to print or build to specifications, allowing Rockford to establish a desirable position building systems and sub-systems for major Original Equipment Manufacturer (OEM) customers.
We have the capabilities, technologies, products, skills, know-how, knowledge, people, and partnerships to design, manufacture, test and deliver system-level electrical equipment, which ranges from electro-mechanical sub-assemblies to complete systems.
Rockford can design and manufacture full vehicle systems when you add power distribution, control boxes, metalwork fabrication and cable assemblies together. As Rockford has control over all aspects of the system, and not just sections, you can get the full turn-key solution.
We can deliver a global competitive solution through design excellence, ensuring all requirements are captured and met. Rockford's lifecycle management offers prototyping, on-site-installation, production, logistics, spares and obsolescence management.
The system solutions product is a combination of capabilities, services, people, knowledge, products and components combined and/or connected electrically to meet your specific needs.
System solutions can encompass power distribution systems, control panels, control units, battery management, sensors, boxes (software/firmware), switches, filter devices, electrical control, hydraulic control, racks and cabinets, electro-mechanical assemblies, test equipment, cabling and infrastructure, fibre optics networks, and high speed networks.
Rockford's engineering and design department offers a complete system design service from simple concept or detailed specification through to production systems, and through life support.
Disciplines include mechanical, electrical and electronic design. Rockford will work with your requirements and specifications to supply a complete suite of documentation with the finished system.
Documentation can include harness drawings, block wiring diagrams, theoretical wiring diagrams, mechanical data pack, operating instructions, safety case support, installation instructions, full system test certification, and other documents as required.
Rockford will work to the specific standards appropriate to the product and environment requirements of the system. These can be military defence standards, US MIL specs, European and British standards (BS) or any other standards specified by customers.
Our team recently created a system solutions demonstration unit for use at an exhibition. We integrated seven different sub-systems and designed a GVA military tactile button display, which displays the outputs from the seven sub-systems: wind sensor, LED lighting, vehicle camera, battery management system, Curtiss Wright panel, fibre media converter and hand controller.
Please see Rockford's case studies to get a more complete picture of system solutions offerings.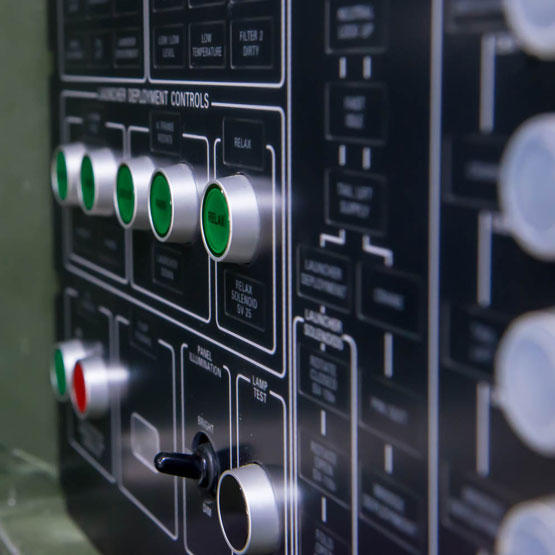 Interconnect Capabilities
Our engineering-driven approach to design and manufacturing delivers a cost effective and high quality solution