MP Visits Rockford to Discuss £1.14 Million from Sharing in Growth Programme
Monday 16th February 2015 Dr Thérèse Coffey MP (Suffolk Coastal) visited Rockford's Rendlesham Headquarters to discuss the Sharing in Growth (SiG) Programme and the benefits it will have for UK Manufacturing industry. Rockford has recently been awarded £1.14 million from the Sharing in Growth programme. Sharing in Growth's £110 million programme consists of £50 million from the Government's Regional Growth Fund with the remaining time-matched from the businesses selected to take part.
Aerospace Industry background
The UK aerospace sector is the European leader and global number two. Its world class capabilities in the manufacture of some of the most sophisticated and high value parts of modern aircraft has created a high-tech and high-skill industry of 3,000 companies and 230,000 employees in the UK that creates massive UK economic benefits.The Aerospace Industry is expected to double in size over the next 10 years with a forecast for 27,000 new passenger aircraft in addition to 40,000 commercial helicopters by 2030.
To capitalise on this growth opportunity within the aerospace industry, suppliers need to constantly invest in their ability to deliver competitive performance. To support this, Sharing in Growth UK Ltd was set up in 2012 specifically to deliver this programme of intensive supplier development over 4 years to 30 to 40 UK suppliers.
Sharing in Growth (SiG) programme
Following the appraisal of applications, the SiG programme involves three successive phases for the successful applicants. The first is a ten to twelve week long diagnostic assessment of all key aspects of the applicant's business, to identify how the programme can offer the applicant business the most benefit. An agreement is then made on what areas are most important to that business followed by the creation of supplier development charters identifying appropriate training, which becomes the basis of their business case for entering the improvement programme.
The next two years includes leadership training for management teams, business improvement training (NVQ2/3) for staff and tailored high-intensity development training covering areas such as lean production, modern manufacturing, sub-tier management, cost management. All training will be delivered by industry experts and specialists contracted to work on the Sharing in Growth programme.
The programme then offers ongoing support for a further two years, based on the issues identified in the previous stages, to ensure that the improvements to the applicant's company are firmly embedded.
Dr Coffey MP said "It is great to see tax payers money invested so effectively on UK SME's to increase employment and safeguard the future of manufacturing in the UK. We should be very proud of having such a high calibre company in the local area."
Peter Lion, Managing Director, said "Being a beneficiary of Sharing in Growth will enable Rockford to go from being a good company to a great world class company.  We are pleased to hear that SiG has been conditionally accepted for further funding from the RGF to carry on with this great program."
Steve Hayter, Commercial and Finance Director, said "This awesome project will allow us to break through the glass ceiling that most SME's reach and enable us to have the personnel and infrastructure in place to meet our growth projections over the next five years."
Carl Miller, Operations Director, said "We will now be able to increase our Apprentice program to better invest in the future of this country's manufacturing industry.  Rockford employ over 120 people from the local area and are now recruiting on the back of SiG to meet our forward looking order book."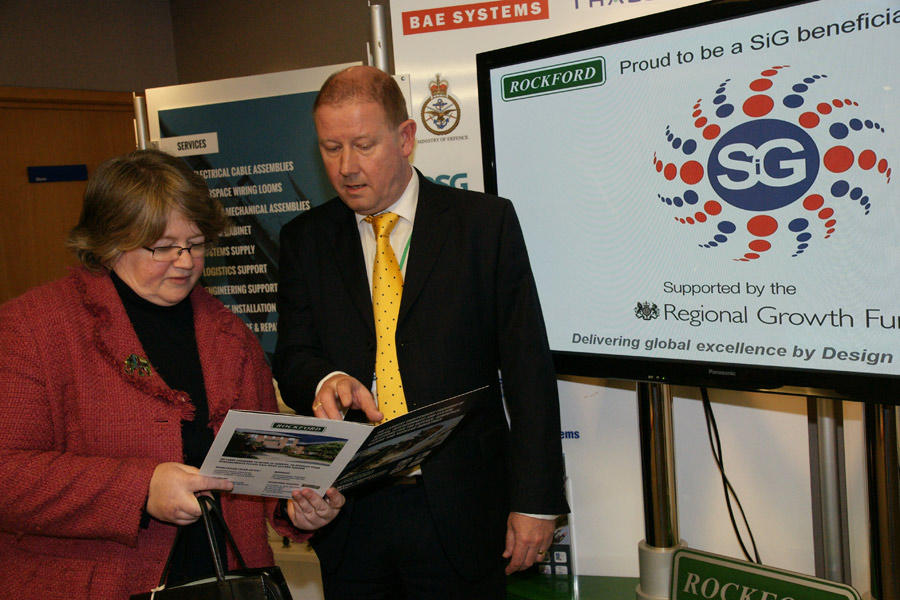 Background Information
Rockford is a privately owned company that has been trading since 1978.  With over 200 employees in the UK over 3 sites and a presence in the UAE (Rockford Xellerix) it is the largest independent provider of electro-mechanical and wiring assemblies in the UK serving Civil Aerospace, Defence and Industrial markets.
www.rockford.co.uk
Thérèse has been Member of Parliament for Suffolk Coastal since 2010. She served on the Culture, Media and Sport Committee till she was appointed Parliamentary Private Secretary to Michael Fallon, Minister for Business and Energy.  She now serves as a member of the Government as an Assistant Whip.
http://theresecoffey.co.uk
Sharing in Growth training programme raises the capability of UK aerospace suppliers in order to share in the growth of the aerospace industry. It provides concentrated training and development tailored to the assessed needs of each supplier and targeted at world class standards of performance. It covers all relevant disciplines, including lean operations, manufacturing processes, purchasing, cost modelling and leadership.
www.sig-uk.org