Rockford Achieves AS9100 Rev C
Suffolk based Rockford Components Ltd, the UK's largest independent provider of wiring, interconnect and system solutions, has announced they have achieved AS9100 Revision C accreditation.
AS9100, the internationally recognised Aerospace industry quality management system standard, was awarded following extensive audits, by NQA, at Rockford's Rendlesham facility. The approval strengthens their ISO 9001:2008 accreditation and comes on the back of the UK Aerospace and Defence industry's SC21 Bronze award achieved by Rockford in 2013 on all four of its UK production sites. The SC21 program aims to deliver a globally competitive UK supply chain within the Aerospace, Defence, Security and Space sectors.
The granting of the AS9100 accreditation and SC21 award further strengthens Rockford's position as a leading international contract manufacturer offering a comprehensive range of services, from product design to final production, including electrical wiring harnesses, Aerospace wiring looms, electro-mechanical assemblies and full system build to such demanding markets as Defence, Aviation, Marine and Nuclear.
Peter Lion, Managing Director at Rockford, commented, "We are very pleased that the hard work by all the team involved has resulted in securing both AS9100 and SC21 Bronze.  These awards underline our commitment to the industry sectors we serve and seek to expand in, they form part of our Continuous Improvement philosophy and we look forward to promoting these new accreditations at the forthcoming Farnborough International Airshow."
Dennis Fowler, Company Quality Manager at Rockford, commented, "This accreditation further enhances an already robust quality management system and strengthens our position as market leaders in the Defence & Aerospace sector."
Steve Hayter, Commercial and Finance Director at Rockford commented, "The Rockford workforce have once again demonstrated their commitment, focus and an ability to adapt to new challenges. We recognise the opportunity that AS9100 Revision C presents our company as we strive for total customer satisfaction."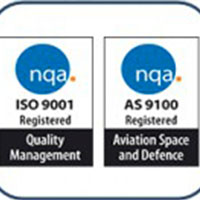 Further Information
Rockford are a leading provider to the Aerospace, Defence, Marine and Nuclear industries with over 35 years experience and over 200 staff in the UK.  With our sister company Rockford Xellerix (www.rockford-xellerix.com) in the UAE and representation in France we have an international manufacturing capability.
For more information please contact:
Barrie Hayter (Sales & Marketing Director)
barrie.hayter@rockford.co.uk
Tel 01394 420800
13th January 2014