Rockford Announces New Business Development Director
After securing Government funding from the Sharing in Growth program (SIG) to improve its competitiveness and investing in additional engineering resources, Rockford is pleased to announce Chris Parsonage has joined the management team as Business Development Director.
Managing Director Peter Lion says, "Chris's primary function will be to play an active role in the senior management team and coordinate sales efforts targeting new customers outside of its traditional markets.  Our new SIG funding, investment in additional engineering resources and the appointment of Chris Parsonage provides the foundations for growth".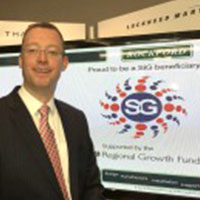 Chris is a dynamic and high energy leader, with a proven track record of delivering profitable and organic sales growth.  He comes to us with a wealth of experience having worked for many of the industry leading Interconnect organisations such as Deutsch (T.E.), Hypertac (Smiths Interconnect) and Amphenol.  His 20 years experience in branding, marketing and selling new products and services in to Aerospace, Defence and Industrial markets will be fundamental in growing the Rockford business.   Along with his impressive work history and vast experience, Chris is an avid runner and in 2014 completed his first full Ironman Triathlon and marathon.
Chris Parsonage says, "I'm delighted to be joining such a dynamic and well experienced organisation. Being a full SIG Beneficiary will bring £1.2 million pounds of Regional Growth Fund investment, which coupled to its recent investment in engineering allows Rockford to exploit additional resources to target, design & deliver new interconnect systems in to Defence, Aerospace and Industrial Customers".