Rockford are proud to announce that all four of our production facilities have been awarded SC21 Bronze.
With the support of our prime sponsor, Thales UK, and secondary sponsor, BAE Systems, we have successfully embraced the ideology of SC21 and  are the first to put all sites through simultaneously.
We have already seen the benefits of the SC21 journey and have been supported by our consultants, Quintec Associates  (www.quintec.com), on our framework of Diagnostics and Continuous Sustainable Improvement Plan (CSIP).
Alaistair Daley – Thales UK Purchasing Family Manager:
"Rockford have demonstrated a willingness to support the SC21 programme and an appreciation of the benefits that can be gained following it's incorporation. I look forward to developing the relationship further and to actively involve Rockford at an earlier stage in future programmes now that they have proved themselves a capable supplier."
Paul Straker – BAE Systems Combat Vehicles Supplier Contracts Manager:
"On the back of sustained high performance on the Terrier programme, Rockford were successful in tapping into other areas of the land sector (notably M777 Weapons contract and work in Vehicles Sweden). The air sector of BAE Systems is also a significant customer. Various BAES Supplier Working Groups allow information of supplier performance to be transferred internally and evidence of sustained high performance on the KPIs and acclaimed work on re-engineering and a reduced bid price, epitomises the efforts put in by Rockford over the last five years."
Peter Lion – Rockford Managing Director:
" The SC21 journey for Rockford has been a team effort from our Senior Management.  The lean principles and techniques have been, and will continue to be, embraced throughout the company.  The award shows our commitment to achieve the quality, delivery and  continuous improvements required in order to provide our customers with the highest service possible."
Rockford would like to thank Olaide Olaoye of Quintec, Paul Egan and Alistair Daley of Thales UK and Paul Straker of BAE Systems for their continued support throughout the process.
We look forward to working towards our Silver Award in in the future.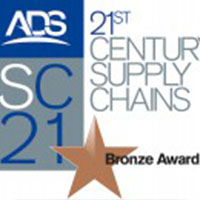 SC21 Background
ADS' SC21 (21st Century Supply Chain) is a supply chain transformation programme designed to accelerate the competitiveness of the aerospace & defence industry in the UK.
SC21 framework is focused on collaborative working and performance management to achieve benefits across the Aerospace, Defence and Security supply chain.
Cultivating Supply Chains for the 21st Century, or SC21, was founded by military and aerospace primes including BAE Systems, Thales  and General Dynamics, who recognised that the level of supplier audits required for each of them to operate autonomously resulted in high levels of costly and inefficient duplication.
By working together and founding SC21, the largest and most influential design authorities within the military and aerospace market have been able to pool their knowledge and recognise organisations with exceptional levels of quality and on-time delivery.