The Simple Changes that Increased our Bottom Line by 60%
Rockford is part-way through a complete transformation of the business and is taking a little time to process what has been effective and how it has helped us succeed.
While many business transformations are taken in response to shifting market conditions and customer demand, Rockford's decision to change was entirely self-driven.
Rockford's 40-year history began in components resale and cable manufacturing, primarily within the defence market. Rockford then decided to branch out into the commercial aerospace sector and industrial markets, such as motorsports and specialist vehicles, as our experience within defence projects was easily transferrable to these new markets.
Along with this change of direction came a need to transform the business and evolve into something that could grow substantially and support our new directions. A fortuitous relationship developed with Sharing in Growth (SiG) after a lengthy application process and Rockford became a star pupil for the lessons delivered by the SiG team.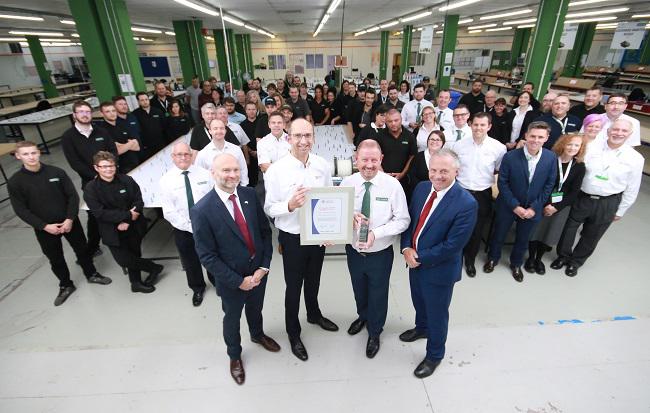 SiG's focus is on increasing the number of aerospace-related manufacturing contracts in the UK and providing jobs for people in the process. It's about keeping manufacturing in the UK, and not losing these contracts to low-cost countries.
Rockford's growth potential was very attractive to SiG for this reason, and we have come through with some excellent results while we've been a part of the programme, including creating 100 new jobs in 2017, securing 9th place in the Sunday Times SME export table for 2016, and winning the SiG Inspire award in 2017.
Rockford's Vision Mission and Values
We began by delving deep into our core values to determine our vision, mission and values, as this would help us to decide how to proceed from that point. Every single management decision can now be made according to this guiding compass.
Having this clarity of purpose officially noted has helped us to define precisely which products to focus on, which aspects of the business to market more aggressively and how to decide on a response when dealing with customers. It really keeps us all together as a functioning team.
Execution of Rockford's Business Transformation
Rockford began its business transformation with SiG by achieving an incredible result on a certain project. With SiG's help, Rockford took the project from a 405-hour process to being just 75 hours and thus made the project quite profitable.
The execution involved adding lean efficiencies to every step of the process, from costing to management and production procedures. However, we still had much to learn, as the lessons weren't completely embedded in our business practices, despite what we had hoped.
We're learning every day from this setback and endeavouring to achieve our previous success in our upcoming projects.
Leadership Challenges to Business Transformation
In any transformation process, businesses see resistance at every level. However the most difficult to overcome is that of the leadership in place. SiG was extremely pleased that Rockford's directors and management had very little resistance to change, even at the very beginning, and were willing and eager to learn what SiG had to offer.
The SiG team believe that the highlight of Rockford's success lies in this cultural change within the business since they arrived. Our three UK facilities work closely as a cohesive team and the individual people are focused on working together towards our goals.
Customer Demand and Business Transformation
An important lesson we've taken on board is that of continually monitoring customer demand and ensuring that our goals are in alignment with that demand. Our business maturity matrix is the driving force of our transformational change, and we regularly adjust and adapt to ensure we're on track, and that change is effected from the top of our leadership and throughout the staff at all levels.
We're determined to see future growth as we further embrace new markets and initiatives, and we're proud to have instigated such monumental change within the business with the help of the SiG team and their business transformation consultants.
Rockford
Rockford helps customers deliver highly ruggedised and complex platforms by integrating technology.
The process used at Rockford mitigates risk for customers by offering a one-stop-shop for all electrical requirements (electro-mechanical/electrical cable assemblies/design services/tailored logistics/on-site-support), simplifying complex, and often fragmented, supply chains with an open-source multi-supplier design. Incorporating partnerships with top-quality manufacturers, Rockford is able to offer best-in-class system solutions with bespoke designs for every customer.
Simplifying your supply chain with excellence: high-reliability bespoke designed system-level electrical equipment from prototype to production, delivered with on-site global engineering support. Find out more and tell us what matters to you by contacting us.